Do you want to build a fast and efficient logistics system without having to invest in your own warehouse? Is your dispatch volume growing, and are you looking for additional capacity? Would you like to outsource your entire storage and dispatch efforts?
We can do it all for you. Incoming goods, storage, packaging, shipping, returns, customer service – we cover every aspect of order processing, and also offer additional fulfilment services. You can always expect the highest quality from us. Our logistics system is one of the most efficient and modern in Europe. Automated and manual processes are intelligently interlinked, so we can make flexible adjustments to our processes in terms of both logistical volumes and bespoke customer requirements at any time.
Advantages for Companies
We take the processes and services involved throughout the logistics value chain off our customers' hands – from warehousing to product finishing and delivery through to returns management.
Delivery to the German or European market

Processing orders from retail partners and consumers

Product customization and finishing

Monitoring stock levels and tracking shipments

Interfaces with customer-specific IT systems
Order management
We keep your hands free for other tasks, by looking after your daily business and managing any service issues that may occur. And so that you can keep up-to-date with everything, we provide reports and offer interfaces enabling you to manage orders and processes. This means that you can track the movement of goods transparently and view the status of your processes at any time, including the shipping status of our dispatch partners.
Disposition & Storage
When it comes to safeguarding delivery capability, we are sure to strike the right balance between goods availability and cost. In addition to storing your products, we offer you access to the full KOMSA range, consisting of approximately 35,000 products from around 200 vendor partners – we also throw in a large database of product descriptions.
With a logistics space of 32,000 square metres, KOMSA boasts a modern and flexible storage system. We manage inventories by exact location and with a permanent inventory; we stock items using serial numbers.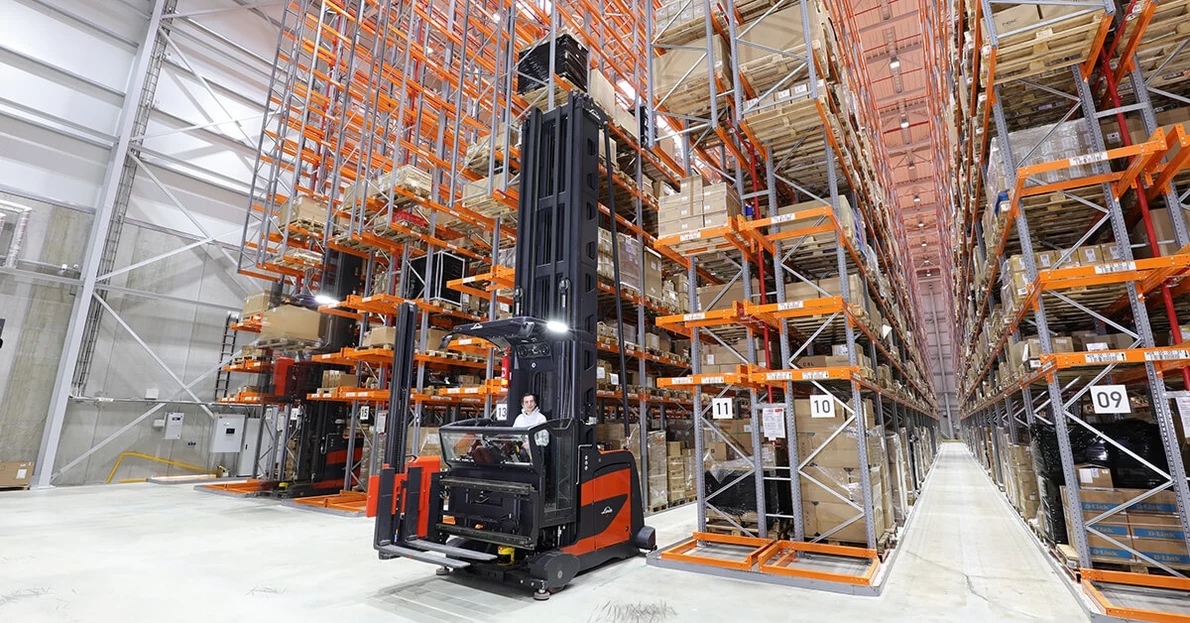 Logistics & Shipping
At our KOMSA logistics centre, we process incoming shipments the same day. So we are certainly speedy when it comes to receiving goods, shipping them efficiently, and managing returns in a customer-friendly way. For order picking, we rely on automated goods checking and removal processes in the warehouse; we also perform manual quality checks and parcel weight checks.
KOMSA delivers nationally and internationally. We ship via all popular shipping providers, and we send to both private and business customers. We are proud to offer a flexible shipping service, where you can choose between standard and express shipping as well as additional services such as on-site exchange, two-man handling, recalls, and customs handling.
E-Commerce
We support companies in sales. By providing an online shop or connecting to a particular ordering system, we can make ordering chains completely digital. This saves you time and money, and can also generate additional revenue.
We take care of planning and implementing the website, managing the shop, shipping goods, and payment.
After-sales
Thanks to our after-sales services, we can provide assistance even after our products have been delivered. If a device breaks, we can repair it at one of our workshops, back up and restore the data or, if necessary, recycle it. And if devices are no longer needed, we take them back, refurbish them, and give them a second life with our B-stock service.
Product Finishing
Our customizing service offers the chance to tailor products exactly to your specifications. For example, we can put your company logo or message on the product, package products as special editions, or combine them with other products in a set. We can also pre-install specific software.
---
These services may also interest you: